Mission: To ensure that the growth of the city is maintained through provisions of quality and responsive services that are held in high regards in promotion of the health and welfare of its citizens.
Responsibility:  To install, maintain, and repair electrical power distribution systems and substations.
Quitman is a member of Municipal Electric Association of Georgia (MEAG).  MEAG is a company that sets its goal in generating and transmitting reliable, competitively priced wholesale electric power. As a member of MEAG it is the responsibility of the Electric Department to ensure that the citizens of Quitman, their community and industries are serviced with the best team of certified workers.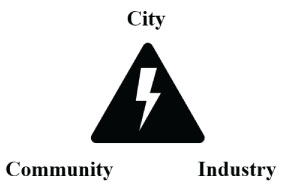 Electrical Tips and Safety
Use outlets with Ground Fault Circuit Interrupters in bathrooms, garages, near kitchen sinks and outdoors

Keep appliances away from bathtubs, puddles, sinks and wet hands.  Always unplug an appliance before cleaning.

Never overload an outlet with multiple appliances

If small children are present, put safety covers on all electrical outlets within their reach.

Pull-on the plug head, never the cord.

Never carry an appliance by its cord.

Don't run cords under rugs or furniture.
Isaac Reynolds, Sr.,
Department Supervisor
Phone: 
Cell: 
Email: 
To report an electrical emergency, call 911